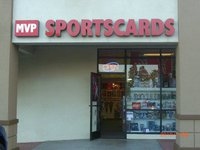 Thank you for visiting MVP Sports cards. Our main goal is to make an easier way for you to find and buy sports cards, equipment holders, supplies and the necessary help to complete your collection.
We have been in business for over 25 years. We will make sure you receive excellent customer service and the best of products.
Currently we are purchasing vintage (Pre-1970), certified veteran autographs and rare cards.
We hope you like MVP Sports cards website/store and make it your favorite place to visit.
Store hours
Monday- Saturday: 10am to 6pm
Sunday:                     Closed