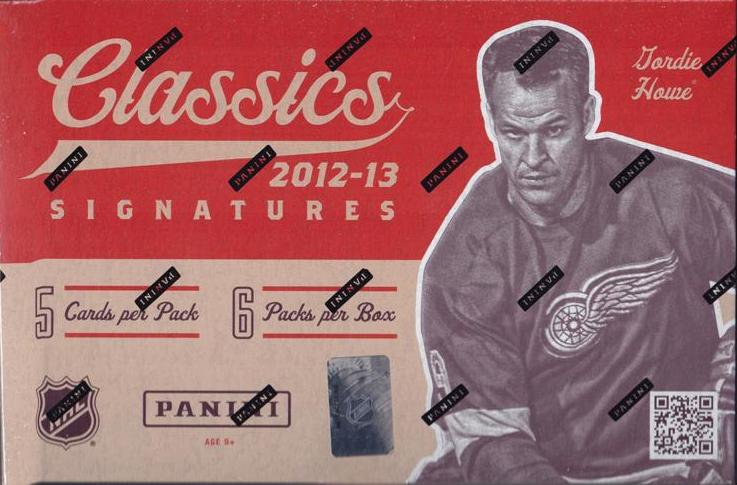 6 Packs Per Box, 5 Cards Per Pack
 6 RETIRED-PLAYER AUTOGRAPH CARDS – (ONE PER PACK!)
 Case Break
(1) Notable Nickname Autograph
(1) Inaugural Inks Autograph
(1) Classic Combos Dual Autographs
(3) Social Signatures
12/13 Panini Classic Signatures Hockey honors the greatest players from hockey's storied history by delivering
ONE RETIRED-PLAYER AUTOGRAPH in EVERY (5)-CARD PACK!
Product Highlights
(1) RETIRED-PLAYER AUTOGRAPH IN EVERY FIVE-CARD PACK!
CLASSIC SIGNATURES – features Autographs of NHL Stars and Legends of the past including: Mark Messier, Gordie Howe®, Steve Yzerman, Johnny bower, & many more! CLASSIC LINES TRIPLE AUTOGRAPHS – showcases Signatures from the NHL's greatest line combinations of the past
SOCIAL SIGNATURES – features Autographs along with Inscriptions featuring their social media user names
(JUST OVER 100) CARDS IN THE SET
Subsets Include
Classic Signature Base Card – Featuring NHL stars from yesteryear!
Classic Combos– Look for Autographs featuring dual or triple player combinations
Classic Signature Autograph Card – One Autograph Card in every pack
Social Signatures – Social Signatures returns with an all new Classics Signatures checklist
The Originals – Look for Autographs of the NHL's most storied franchises I
Inaugural Inks – Inaugural INKS showcases Hall of Fame players along with Inscriptions of their induction year