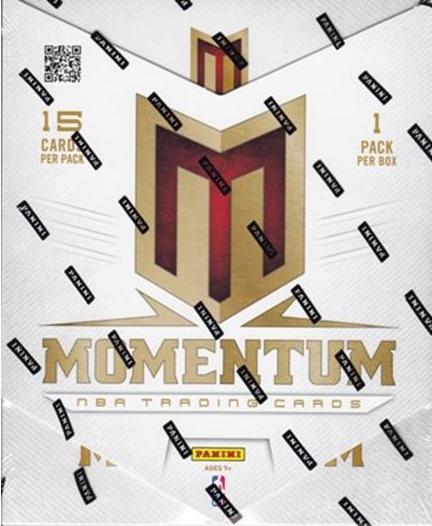 1 Pack Per Box, 15 Cards Per Pack
Find 5 Autographs in every box!
Please click on link below for a complete checklist
http://www.cardboardconnection.com/2012-13-panini-momentum-basketball-cards
Collect 85 Momentous Rookie Autographs! Chase the comprehensive 300-card autograph checklist in Monumental Marks!
Collect 100 Momentum Autographs cards of the league's most sought after players!
PRODUCT BREAKDOWN:
– 300-card base set with 85 Rookies – 3 Autograph Inserts
COMMON: The league's best rookies and veterans make up this striking new base card!
FORCE: Look for this unique, die-cut parallel of the game's most powerful players, past and current!
DRIVE: Etched foil cards that will that will leave you with the drive to collect every last one!
MOMENTUM AUTOGRAPHS: Seek out this sparkling white and foil accented design that will highlight an autograph of the league's most talented players!
MOMENTUS ROOKIES AUTOGRAPHS: Look for 2011 and 2012 rookie talent full of autographs.
MONUMENTAL MARKS: Look for all 300 cards in this insert to boast a brilliant display of autographs from the brightest stars of today and yesterday.