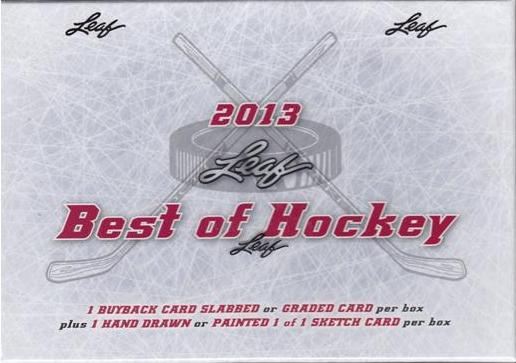 2 Cards Per Box
Each box contains (1) Buyback Card slabbed or graded and (1) Hand Drawn or Painted 1/1 Sketch Card
Like its predecessors in other sports, Best of Hockey is the perfect marriage of all things great in hockey trading cards. Best of Hockey features graded rookie cards, quality autograph and memorabilia cards, and vintage cards of many of the game's greatest stars plus REDEMPTIONS FOR SEALED BOXES! (INCLUDING UPPER DECK CUP HOCKEY BOXES FROM '05-'06 TO PRESENT!)
EACH BOX INCLUDES:
1 BUYBACK CARD SLABBED OR GRADED WHICH MAY INCLUDE ONE OF THE FOLLOWING:
– Graded Rookie cards of the game's greatest players, including today's hottest young stars – Autograph, Relic and Autographed Relic cards of the hottest legends, stars and rookies! – Graded Vintage cards of Legends including Gretzky, Orr, Howe, Vezina, and many more – Redemption cards for sealed boxes (including Upper Deck's Cup Hockey) and sealed vintage packs (including '79-'80 hockey!)
PLUS:
1 HAND DRAWN or PAINTED 1/1 SKETCH CARD of a hockey legend, star or rookie superstar (Look for randomly inserted Gordie Howe 1/1 sketch autograph cards!)
PRODUCTION ON THIS ITEM IS EXTREMELY LIMITED!