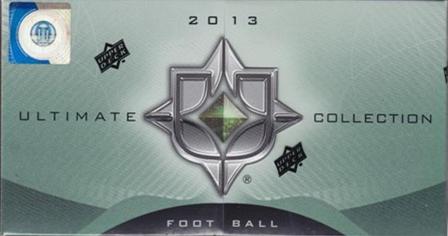 1 Pack Per Box, 4 Cards Per Pack
(1) Autograph Card, (1) Memorabilia Card, and (1) Rookie Card numbered to 199 or less per box
Look for never before seen new Ultimate Collection Rookie Signature Book Cards! Hard-signed die-cut book cards numbered to 265 or less!
Collect hard-signed 1997 Legends autographs!
Every other pack delivers a patch card! All memorabilia cards feature at least two swatches or one oversized swatch!
Look for single, dual, triple, and quad signed cards!
PRODUCT BREAKDOWN:
Autographed Memorabilia Cards:
– Ultimate Material Signature – # to 50 or less
– Ultimate Material Signature Patch Parallel – # to 10
– Ultimate Material Dual Signature – # to 10
– Ultimate Material Dual Signature Patch Parallel – # to 5
– Ultimate Super Jersey Auto Parallel – # to 15
– Ultimate Super Patch Auto Parallel – # to 5
Autographed Cards:
– Ultimate Rookie Signatures Tier 2 – # to 265
– Ultimate Rookie Signatures Tier 1 – # to 99
– Ultimate Rookie Signatures Tier 2 Parallel – # to 25
– Ultimate Rookie Signatures Tier 1 Parallel – # to 25
– Ultimate Rookie Signatures Tier 2 Parallel – # to 1
– Ultimate Rookie Signatures Tier 1 Parallel – # to 1
– Regular Card Auto Spectrum Parallel – # to 1
– Ultimate Signatures – # to 99 or less
– Ultimate Legends Signatures – # to 35 or less
– Ultimate Dual Signatures – # to 20 or less
– Ultimate Triple Signatures – # to 15 or less
– Ultimate Quad Signatures – # to 10 or less
– Ultimate Draft Class Triple Signatures – # to 10 or less
– 1997 Legends Autographs – 1:15
Memorabilia Cards:
– Ultimate Jersey – # to 99
– Ultimate Dual Jersey – # to 30
– Ultimate Triple Jersey – # to 20
– Ultimate Quad Jersey – # to 50
– Ultimate Super Jersey – # to 45
– Ultimate Super Patch – # to 25
– Ultimate Patch Parallel – # to 99
– Ultimate Dual Patch Parallel – # to 75
– Ultimate Triple Patch Parallel – # to 50
– Ultimate Quad Patch Parallel – # to 10
Inserts and Parallel Cards:
– Regular Card Parallel – # to 10
– Regular Card Spectrum Parallel – # to 1
– Ultimate Rookies Parallel – # to 10
Base Set:
– Regular Cards – # to 299
– Ultimate Rookies – # to 199