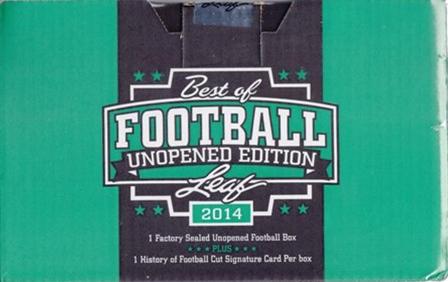 1 Unopened Football Box and 1 Cut Signature Card Per Box
Each Box contains One Factory Sealed Unopened Football Box and One History of Football Cut Signature Card
This release focuses on factory sealed unopened boxes from the last 10+ years.  Leaf has scoured the market to look for an incredibly wide selection of sealed boxes for inclusion in this release, including the iconic products pictured on the sell sheet and more!
In addition, look for History of Football Cut Signature Cards(cut selection comparable to Leaf History of Baseball) in every box. This set features a wide range of football greats ranging from multi-time Pro Bowlers to Heisman Winners to Hall of Famers, including players/coaches such as:
Dan Marino, Drew Brees, Joe Namath, Jerry Rice, Junior Seau, Nick Saban, Paul Brown, Ray Lewis, Sammy Baugh, Tony Romo, Roger Staubach, Bart Starr, Derrick Thomas, Vince Lombardi, Jim Brown, Walter Payton, and more!