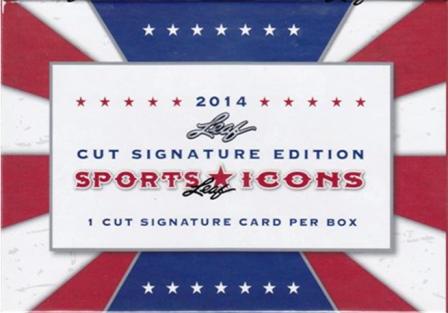 1 pack per box. 1 card per pack
1 Cut Signature Encapsulated Card per Pack
PRODUCT HIGHLIGHTS
– As an added value in 2014, every single card is numbered to 10 or less!
– Plus look for dual-cut signature cards featuring two cut signatures of sports icons on the same card!
PRODUCT DESCRIPTION
Leaf is pleased to announce the return of one of its mainstay cut signature releases: 2014 Leaf Sports Icons Cut Signature. This release features many of the sports world's most noteworthy names from all fields of athletics to create a very popular and very diverse collectiong experience.
Look for exciting cut signature cards of:
– Babe Ruth
– Honus Wagner
– King Clancy
– Roy Campanella
– Jimmie Foxx
– Bobby Jones
– Rogers Hornsyby
– Wilt Chamberlain
– Muhammad Ali
– Michael Jordan
– Alexander Cartwright
– Jackie Robinson
– Tiger Woods
– Wayne Gretzky
– And many more!!!
– Knute Rockne
Look for Presidents who threw out the first pitch such as:
– Barack Obama
– Jimmy Carter
– Bill Clinton
– George W. Bush
– Calvin Coolidge
– Woodrow Wilson
– Harry Truman
– Herbert Hoover