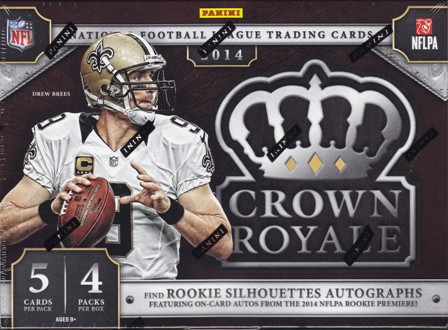 4 packs per box. 5 cards per pack.
4 Autograph/Memorabilia Cards (Panini Rewards Points may per replace autograph) Per Box
PRODUCT HIGHLIGHTS
– On-card autographed Silhouette Rookie Cards, featuring 40 of the top rookies from the 2014 NFL Rookie Premiere Photoshoot.
– One memorabilia or autograph card per pack.(Reward Points may take the place of an autograph)
– Look for the all-new, re-imagined Rookie Signatures cards and printing plates.
– Find single, dual and triple-player Heirs to the Throne memorabilia cards.
– All-new Silhouette variations, including Jumbo Silhouettes and Dual Rookie Silhouettes!
PRODUCT DESCRIPTION
Base Cards (100 subjects)
Rookie Cards (100 subjects)
PARALLELS
– Silver Holofoil (200 subjects) numbered to 199
– Gold (200 subjects) Numbered to 99
– Gold Holofoil (200 subjects) Numbered to 25
– Purple (200 subjects) Numbered to 10
– Green (200 subjects) Numbered to 5
– Black (200 subjects) Numbered 1 of 1
– Die Cut Printing Plates Black, Cyan, Magenta, Yellow (200 subjects) numbered 1 of 1
Exclusive Rookie Parallel
Rookies Premier Date (100 subjects) Numbered to 14
AUTOGRAPHS/MEMORABILIA
Rookies Signatures (100 subjects) Numbered to 299 or less
– Rookies Signatures Silver Plaid (100 subjects) Numbered to 99 or less
– Rookies Signatures Gold (100 subjects) Numbered to 49 or less
– Rookies Signatures Gold Plaid (100 subjects) Numbered to 25 or less
– Rookies Signatures Premier Date (100 subjects) Numbered to 14
– Rookies Signatures Purple Plaid (100 subjects) Numbered to 10 or less
– Rookies Signatures Green Plaid (100 subjects) Numbered to 5 or less
– Rookies Signatures Blue Plaid (100 subjects) Numbered 1 of 1
– Rookies Signatures Printing Plates – Black, Cyan, Magenta, Yellow (100 subjects) Numbered 1 of 1
Rookie Silhouettes Autographs (40 subjects) Numbered to 299 or less
– Rookie Silhouettes Autographs Gold (40 subjects) Numbered to 49 or less
– Rookie Silhouettes Autographs Purple (40 subjects) Numbered to 25 or less
– Rookie Silhouettes Autographs Green (40 subjects) Numbered to 5 or less
– Rookie Silhouettes Autographs Blue (40 subjects) Numbered to 1 of 1
Silhouettes Autographs (20 subjects) Numbered to 49 or less
– Silhouettes Autographs Gold (20 subjects) Numbered to 25 or less
– Silhouettes Autographs Purple (20 subjects) Numbered to 10 or less
– Silhouettes Autographs Green (20 subjects) Numbered to 5 or less
– Silhouettes Autographs Blue (20 subjects) Numbered 1 of 1
All Pro Materials (25 subjects) Numbered to 499 or less
– All Pro Materials Prime (25 subjects) Numbered to 99 or less
– All Pro Materials Laundry Tag NFL Shield (25 subjects) Numbered to 1 of 1
– All Pro Materials Laundry Tag NFL Players Logo (25 subjects) Numbered to 1 of 1
– All Pro Materials Laundry Tag Nike Swoosh (25 subjects) Numbered to 1 of 1
Knights of the Round Table Jersey (20 subjects) Numbered to 399 or less
– Knights of the Round Table Prime (20 subjects) Numbered to 99 or less
– Knights of the Round Table Laundry Tag NFL Shield (20 subjects) Numbered 1 of 1
– Knights of the Round Table NFL Players Logo (20 subjects) Numbered 1 of 1
– Knights of the Round Table Laundry Tag Swoosh (20 subjects) Numbered 1 of 1
Heirs to the Throne Jersey (15 subjects) Numbered to 399
– Heirs to the Throne Prime (15 subjects) Numbered to 99
– Heirs to the Throne NFL Shield (15 subjects) Numbered 1 of 1
– Heirs to the Throne NFL Players Logo (15 subjects) Numbered 1 of 1
– Heirs to the Throne Laundry Tag Nike Swoosh (15 subjects) Numbered 1 of 1
Heirs to the Throne Combos (5 subjects) Numbered to 399 or less
– Heirs to the Throne Combos Prime (5 subjects) Numbered to 99 or less
– Heirs to the Throne Combos Laundry Tag NFL Shield (5 subjects) Numbered 1 of 1
– Heirs to the Throne Combos Laundry Tag NFL Players Logo (5 subjects) Numbered 1 of 1
– Heirs to the Throne Combos Laundry Tag Nike Swoosh (5 subjects) Numbered 1 of 1
Heirs to the Throne Trios (5 subjects) Numbered to 399 or less
– Heirs to the Throne Trios Prime (5 subjects) Numbered to 99 or less
– Heirs to the Throne Trios Laundry Tag NFL Shield (5 subjects) Numbered 1 of 1
– Heirs to the Throne Trios Laundry Tag NFL Players Logo (5 subjects) Numbered 1 of 1
– Heirs to the Throne Trios Laundry Tag Nike Swoosh (5 subjects) Numbered 1 of 1
Rookie Royalty Materials (40 subjects) Numbered to 499 or less
– Rookie Royalty Materials Prime (40 subjects) Numbered to 99 or less
– Rookie Royalty Laundry Tag NFL Shield (40 subjects) Numbered 1 of 1
– Rookie Royalty Laundry Tag NFL Players Logo (40 subjects) Numbered 1 of 1
– Rookie Royalty Laundry Tag Nike Swoosh (40 subjects) Numbered 1 of 1
Jumbo Silhouettes (25 subjects) Numbered to 99 or less
– Jumbo Silhouettes Prime (25 subjects) Numbered to 25 or less
Dual Rookie Silhouettes (25 subjects) Numbered to 99 or less
– Dual Rookie Silhouettes Prime (25 subjects) Numbered to 25 or less
Crown Signatures (100 subjects) Numbered to 299 or less
– Crown Signatures Silver Holofoil (100 subjects) Numbered to 99 or less
– Crown Signatures Gold Holofoil (100 subjects) Numbered to 25 or less
– Crown Signatures Green (100 subjects) Numbered to 5 or less
– Crown Signatures Blue (100 subjects) Numbered 1 of 1
INSERTS
Rookie Panini's Choice (32 subjects)
– Rookie Panini's Choice Green (32 subjects)
– Rookie Panini's Choice Blue (32 subjects)
The King's Court (24 subjects)
– The King's Court Green (24 subjects)
– The King's Court Blue (24 subjects)
Knights and Squires (16 subjects)
– Knights and Squires Green (16 subjects)
– Knights and Squires Blue (16 subjects)
Master Craftsmen (16 subjects)
– Master Craftsmen Green (16 subjects)
– Master Craftsmen Blue (16 subjects)
Crown Jewels (10 subjects)
– Crown Jewels Green (10 subjects)
– Crown Jewels Blue (10 subjects)
Air to the Throne (2 subjects)
– Air to the Throne Green (2 subjects)
– Air to the Throne Blue (2 subjects)