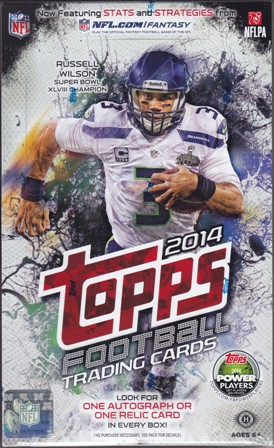 36 Packs Per Box, 10 Cards Per Pack
 (1) Autograph Card or (1) Relic Card Per Box
* Each pack contains (10) 2014 Topps Football Cards – including at least (1) Rookie Card!
Every 36ct Hobby Box of 2014 Topps Football Contains*:
(1) Autograph or Relic Card
(36) Rookie Cards (…at least one per pack) (48) Insert Cards
Find Exclusive Hard-Signed Autographs from the most collectible NFL Rookies – captured at the 2014 NFLPA Rookie Premiere! – All sequentially #'d.
NFLPA Rookie Premiere Autos NEW! 1963 Topps Mini Rookie Autos NEW! 1965 Topps Rookie Autos NEW! 1985 Topps Rookie Autos NFLPA Rookie Premiere Auto VIP Passes – #'d 1 of 1 – Hobby & Hobby Jumbo Only Rookie Premiere Dual Autos Rookie Premiere Quad Autos Ultimate Rookie Autos Other Autograph Card & Autographed Relic subsets include: Topps Autographs NEW! NFL.com Fantasy Stock Watch Autos Base Veteran Autos Base Veteran Variation Autos Topps Auto Relics – Hobby & Hobby Jumbo Only Rookie Auto Jumbo Patch- Hobby & Hobby Jumbo Only Base Rookie Autos Base Rookie Auto Variations Relic Card – subsets include: Topps Relics In the Name Relics – #'d 1 of 1 – Hobby & Hobby Jumbo Only
Commemorative Relic Cards will celebrate the NFL's best from past & present, includes: NEW! 2013 Topps All-Star Rookies NEW! 2013 Topps All-Pro Class NFL Captains Patch – STS & BCA Parallels NEW! Topps Club – subsets: QB, RB, WR & Defensive Base Cards (440) Featuring Veterans, Rookies, Team Cards (32), plus 2013 All-Pros & Award Winners Base Card Parallels – include: Gold Bordered, BCA, & STS (all seq #'d) Black Bordered (seq #'d), Platinum Foil (1 of 1) & Printing Plates (1of 1) – all three Hobby& Hobby Jumbo Only
2014 Topps Football Promotional programs
Collect 2014 Topps Football Power Players Parallel Code Cards! Enter codes into your digital locker on the Power Players Website – for a chance to win incredible prizes!