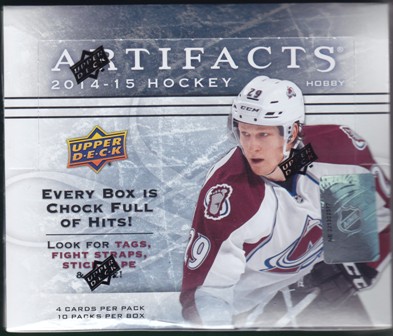 10 Packs per box. 4 Cards per pack.
(1) Autograph or Rookie Autograph Redemption, (3) Memorabilia, (1) Rookie Redemption Per Box
Content Highlights:
Get 4 Subsets #'d to 999 (or Ruby Parallels) per Box – Rookies, Goalies & Team Canada!
Featuring Yakupov, Galchenyuk, Huberdeau, Gallagher, Tarasenko & More RC's!
Also Grab a Rookie Redemption in Every Box!
Showcasing top phenoms who debut on Opening Night & beyond!
Top it off by Snagging an Autograph Rookie Redemption card!
Securing a Signature from one of the top 18 Rookies!
Look for 3 Memorabilia cards per Box!
Including a multi-player hit in Every Box!
Pull more Patch, Stick, Strap & Tag hits than ever before in Artifacts!
(NEW) Collect Rookie Materials, with a whole host of goodies, from jersey-jersey combos #'d to 125, all the way up to tag-patch combos #'d to just 5!
 Introducing Stick Tape cards!
Artifacts' newest gem gives collectors a wrap on stick cards!
 Extensive Multi-Swatch Memorabilia cards Throughout the Product Lineup!
Content Breakdown:
Memorabilia Cards
Regular Card Materials (Jersey-Jersey) – #'d to 125
Regular Card Materials (Jersey-Patch), Emerald parallel – #'d to 75
Regular Card Materials (Patch-Patch), Spectrum parallel – #'d to 15
Regular Card Materials (Patch-Tag), Black parallel – #'d to 5
Regular Card Materials Horizontal (Jersey-Jersey) – #'d to 36
Regular Card Materials Horizontal (Jersey-Patch), Emerald parallel – #'d to 24
Regular Card Materials Horizontal (Patch-Patch), Spectrum parallel – #'d to 9
Regular Card Materials Horizontal (Patch-Tag), Black parallel – #'d to 2
Autographed Regular Card Materials (Jersey-Jersey) – #'d to 12
Autographed Regular Card Materials (Jersey-Patch), Emerald parallel – #'d to 8
Autographed Regular Card Materials (Patch-Patch), Spectrum parallel – #'d to 3
Autographed Regular Card Materials (Patch-Tag), Black parallel – #'d to 1
Goalies/Team  Canada/Rookies Material (Jersey-Jersey) – #'d to 125
Goalies/ Team  Canada/Rookies Material (Jersey-Patch) – #'d to 75
Goalies/ Team  Canada/Rookies Material (Patch-Patch) – #'d to 15
Goalies/ Team  Canada/Rookies Material (Patch-Tag) – #'d to 5
Autographed Goalies/ Team  Canada/Rookies Material (Jersey-Jersey) – #'d to 12
Autographed Goalies/ Team  Canada/Rookies Material (Jersey-Patch) – #'d to 8
Autographed Goalies/ Team  Canada/Rookies Material (Patch-Patch) – #'d to 3
Autographed Goalies/ Team  Canada/Rookies Material (Patch-Tag) – #'d to 1
Treasured Swatches, (Jersey-Jersey) Blue – 1:42
Frozen Artifacts, (Jersey-Jersey) Blue – 1:42
Treasured Swatches/Frozen Artifacts, (Jersey-Patch) Green Parallel – #'d to 36
Treasured Swatches/Frozen Artifacts, (Patch-Stick) Red Parallel – #'d to 12
Tundra Tandems (dual jerseys) – 1:18
Tundra Tandems (dual patches), Green Parallel – #'d to 36
Tundra Tandems (dual fight strap), Red Parallel – #'d to 12
Tundra Tandems (dual tag patch), Black Parallel – #'d to 1
Tundra Trios (triple jerseys) Blue Parallel – 1:42
Tundra Trios (triple patch) Green Parallel – #'d to 18
Tundra Trios (triple fight strap) Silver Parallel – #'d to 6
Tundra Trios (triple tag patches) Gold Parallel – #'d to 1
Tundra Sixes (six jerseys) Blue Parallel – 1:160
Tundra Sixes (six patch) Green Parallel – #'d to 6
Tundra Sixes (six fight strap) Silver Parallel – #'d to 3
Tundra Sixes (six tag patches) Gold Parallel – #'d to 1
Rookie Cards
Artifacts Rookies – #'d to 999
Rookie Redemption Cards
Rookie Redemptions – inserted 1:10
Autographed Rookie Redemptions – inserted 1:160
Signature Cards
Auto-Facts – inserted 1:13
Top 12 Rookie Signatures – inserted 1:1,000
Parallel Cards
Regular Cards – Ruby parallel – #'d to 399
Regular Cards – Emerald parallel – #'d to 99
Regular Cards – Sapphire parallel – #'d to 85
Regular Cards – Spectrum parallel – #'d to 25
Regular Cards – Black parallel – #'d to 5
Regular Cards – Black Auto parallel – #'d to 5
Rookies/Goalies/Team  Canada Cards – Ruby parallel – #'d to 299
Rookies/Goalies/Team  Canada Cards – Emerald parallel – #'d to 99
Rookies/Goalies/Team  Canada Cards – Sapphire parallel – #'d to 85
Rookies/Goalies/Team  Canada Cards – Spectrum parallel – #'d to 25
Rookies/Goalies/Team  Canada Cards – Black parallel – #'d to 5
Rookies/Goalies/Team  Canada Cards – Black Auto parallel – #'d to 5
Regular Cards & Subsets
Goalies/Hockey Canada – #'d to 999
100 Regular Cards