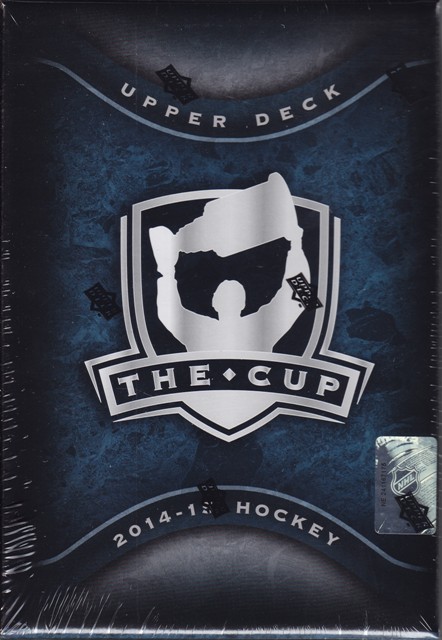 1 Pack Per Box. 5 Cards Per Pack.
PRODUCT HIGHLIGHTS


INSIDE EVERY TIN:
– 2 Autographed Patch Cards:
 – 1 Signed Rookie Patch card!
 – A second Signed Patch card, featuring a Collectible NHLer or great rookie in a collectible insert!
– 2 More Hits – Delivered amongst Signatures, Memorabilia or low-#'d parallels!
THE CUP RUNNETH OVER WITH BIG-TIME HITS:
INCLUDING CUP CLASSICS –
– Unquestionably, the Top Rookie Cards of the Season!
 – Cup RC's – Nothing Better!
– Limited Logos!
 – The Standard of Cup Autograph Patch Cards!
 – Now – for 1st time – all Rookies Feature GAME-WORN JERSEYS Too!
– Property Of … Stick Nameplates – Awesome 1-of-1's!
– Autographed Monumental Booklets!
– Autographed Rookie Gear!
– Dual Auto Rookie Bookmarks!
– Shadowbox-style Brilliance Autographs!
– Notable Nameplates, with a Full Letter Patch right from a Game -Worn Jersey!
– Signature Renditions, and Combos Too!
 – With Documentary-Style Images, Bringing Out the Passion of Hockey!
 
NEW & UPGRADED HITS TOO –
– Look for a re-tooled Gold Spectrum Base Set Parallel!
 – Veterans now limited to 5!
 – Majority of cards now Autographed!
 – Rookies are Signed and #'d to 25!
– Base Set Gold Auto Patches Re-Freshed Too!
 – All cards, including Rookies, now #'d to 10!
– Find Red Foil Auto Tag Parallels to the Base Set!
 – With Stunning Red Foil!
 – Plus Red Ink Signatures!
 – Showcasing Laundry Tags, and #'d to just 3!
– Black Foil Auto Variations Get a Lift Too!
 – Majority of cards now Autographed!
– NEW – Autographed Legendary Gear!
 – Giving these Amazing Hits a Legendary Twist!
– NEW – Black Foil Shield Logo Patches!
 – These Base Set Variations are all 1-of-1's!
– NEW – Exquisite Collection!
 – First-Ever for Hockey!
 – Top Rookies, with Jumbo Patches and Autographs!
 – Plus Top Active Superstars + Legends Too!
 – Sure-Fire Mega-Hits that Exquisite is known for!
– PLUS – Exquisite Collection "Art of the Game!"
 – Tri-Panel, Hand-Painted Booklets!
 – Massive Hits with Hard-Signed Autographs to Boot!
– UPGRADE – Enshrinements now have a Slick Acetate Top Sheet!
 – Featuring Signatures Directly on the Shimmering Surface!
– NEW – NHL Glory!
 – Featuring a Chrome NHL Shield Piece Embedded under Acetate!
 – Nearly all of them are Autographed!
 – Limited to 10 #'d copies per card!
PRODUCT DESCRIPTION
Autographed Rookie Patch Cards!
– Autographed Rookie Patch Level 2 – #'d to 249
– Autographed Rookie Patch Level 1 — #'d to 99
Autographed Patch Cards!
– Limited Logos, Tier 1 – #'d to 50
– Limited Logos, Tier 2 – #'d to 25
– Limited Logos, Tier 3 – #'d to 10
– Emblems of Endorsement – #'d to 15
– Autographed Rookie Gear Booklets – #'d to 25
– Autographed Legendary Gear Booklets – #'d to 5
– Dual Auto Rookie Bookmarks (Booklets) – #'d to 25
– Dual Auto Legendary Bookmarks (Booklets) – #'d to 10
– Autographed Draft Board & Patch Booklets – #'d to 10
– Exquisite Collection Rookie Auto Patch – #'d to Jersey #
– Signature Patches, Tier 1 – #'d to 99
– Signature Patches, Tier 2 – #'d to 25
– Dual Signature Patches, Tier 1 – #'d to 35
– Dual Signature Patches, Tier 2 – #'d to 15
– Honorable Numbers – #'d to jersey #
– Dual Honorable Numbers – #'d to jersey #
– Scripted Swatches – #'d to 35
– Dual Scripted Swatches – #'d to 15
– Autographed Cup Foundations Quadruple Patches – #'d to 5
– Autographed Cup Foundations Tag Patches – #'d to 1
– Autographed Monumental Patch Booklets – #'d up to 3
– Autographed Monumental Rookie Patch Booklets – #'d to 5
– Regular Card Gold Auto Patch – #'d to 10
– Regular Card Red Auto Tag Patch variation (some with Canadian Flag!) – #'d to 1
– Rookie Red Auto Tag – #'d to 3
– Gold Auto Rookie Patches – #'d to 10
The Cup's Upper-Echelon Autograph & Memorabilia Inserts!
– Program of Excellence – #'d to 10
– Program of Excellence Duals – #'d to 5
– Program of Excellence Trios – #'d to 3
– Autographed Rookie Draft Boards – #'d to 25
– Exquisite Collection Art of the Game Booklets – #'d to 3
– Exquisite Collection Base Set Veteran Autos – #'d to 25
– NHL Glory – #'d to 10
– NHL Glory Autos – #'d to 10
– Scripted Sticks – #'d to 35
– Dual Scripted Sticks – #'d to 15
– Cup Enshrinements – #'d to up to 99
– Cup Enshrinements Duos – #'d to up to 25
– Cup Enshrinements Trios – #'d to up to 10
– Cup Foundations Quadruple Jerseys – #'d to 25
– Cup Foundations Quadruple Patches – #'d to 10
– Autographed Cup Foundations Quadruple Jerseys – #'d to 15
– Autographed Cup Foundations Sticks – #'d to 3
– Regular Cards, Black NHL Shield Patch – #'d to 1
– Rookies, Black NHL Shield Patch – #'d to 1
– Notable Nameplates – #'d to Number of Letters in Last Name
– 2005-06 Crosby Cup RC Tributes – #'d to 10
– 2005-06 Ovechkin Cup RC Tributes – #'d to 5
– Property of … – #'d to 1
– Brilliance – inserted 1:4
– Cup Trios (jerseys) – #'d to 25
– Cup Quads (jerseys) – #'d to 10
– Cup Trios Patch / / – #'d to 10
– Cup Quads Patch / / – #'d to 5
– Signature Renditions – inserted 1:4
– Signature Renditions Combos – 1:36
– Rookie Masterpiece (pressplates) – #'d to 1
– Autographed Rookie Masterpiece (pressplates) – #'d to 1
– The Cup Masterpiece (pressplates) – #'d to 1
– Artist Proof Redemptions (for un-cut sheets!) – varied qtys.
– Regular Cards Gold Patch variation – #'d to 10
– Regular Cards Gold Auto variation – #'d to 10
– Rookie Cards Gold variation – #'d to 10
– Rookie Cards Gold Auto variation – #'d to 10
– Regular Cards Red Tag Patch variation (some featuring Tag Patch with Canadian Flag!) – #'d to 3
– Regular Cards Red Auto variation – #'d to 3
– Rookie Cards Red variation – #'d to 3
– Rookie Cards Red Auto variation – #'d to 3
– Regular Cards Gold Spectrum Auto variation – #'d to 5
– Regular Cards Black Auto variation – #'d 1-of-1
– Rookie Cards Gold Spectrum Auto variation – #'d to 25
– Rookie Cards Black Auto variation – #'d 1-of-1
Regular Set + Parallels!
– Rookies – #'d to 249
– Rookie Autos – #'d to 249
– Regular Cards Gold Spectrum / / – #'d to 5
– Regular Cards Black / / – #'d to 1
– Rookie Cards Gold Spectrum // – #'d to 25
– Rookie Cards Black / / – #'d to 1
Regular Set
– Regular Cards – #'d to 249