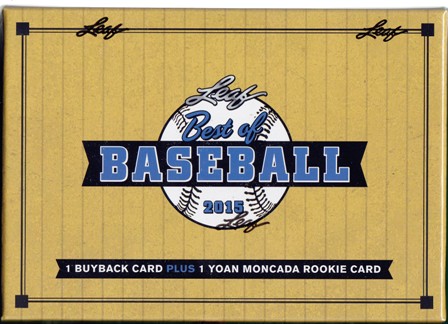 1 pack per box. 2 cards per box.
Each box includes:
– 1 Buyback Item
Plus
– 1 Yoan Moncada Rookie card OR Rookie Autograph Card (autographs fall one or more per case!)
Leaf is pleased to announce the return of one of the baseball market's most popular brands, 2015 Leaf Best Of Baseball. Once again, this release celebrates everything great about baseball cards with a wide selection of buyback rookie cards, autographed cards, vintage cards, high end trading card sealed boxes and high end memorabilia cards. With this release, Leaf is excited to bring the market among the first autograph cards of one of the most highly touted Cuban prospects of all time, YOAN MONCADA.