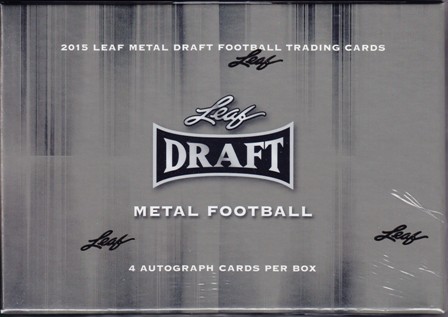 1 Pack Per Box, 4 Cards Per Pack
4 Autographed Cards Per Box
Leaf is pleased to announce the return of the hobby's most popular early draft pick football release, Leaf Metal Draft Football. Once again, this set will feature the most elite young players entering the 2015 draft. The most important element of the this product is its heavy focus on offensive skill position players!
Leaf has assembled an unparalleled roster of the most elite prospects entering the draft. This powerful lineup includes: JAMEIS WINSTON, MARCUS MARIOTA, MELVIN GORDON, TODD GURLEY, AMARI COOPER, BRETT HUNDLEY, BRYCE PETTY, AMEER ABDULLAH, T.J. YELDON, DUKE JOHNSON, KEVIN WHITE, JAELEN STRONG, DEVIN FUNCHESS AND MANY MORE!
– JAMEIS WINSTON AND MARCUS MARIOTA AUTOGRAPHS WILL EACH FALL AT AN AVERAGE OF 1 OR MORE PER CASE!
PRODUCT HIGHLIGHTS:
(4) Autograph Cards in

Every Box

–

Base Autographs – Elite Prospects with a focus on

skill position players

to insure value
State Pride Autographs – Featuring the State Flag of the player's Alma Mater
Award Winner Autographs – Showcasing players who took home significant hardware during their illustrious college career
Armed and Dangerous – Showcasing 2015 top potential draft pick quarterbacks ready for the pro level
Flashback Autographs – A select number of elite prospects featured on 2014 Leaf Metal designs. A look at what might have been had these standout players entered the 2014 NFL Draft.
Touchdown Kings – An exciting crown-shaped die-cut featuring prospects most likely to find the end zone early and often in 2015

Prismatic Parallels – Every autograph set can be found with multiple levels of Prismatic Parallels as low as 1/1