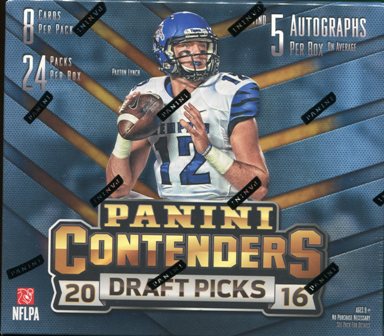 8 cards per pack. 24 packs per box.
(5) Autographs per box
Box Break:
5 autographs.

4 Rush Week.

4 Class Reunion.

4 Collegiate Connections.

4 Passing Grades.

48 Game Day Tickets.

24 School Colors.

24 Old School Colors.

Industry favorites Season Ticket and College Ticket return in 2016 Contenders Draft Picks which features all of the top rookies and current Sunday stars in their college uniforms!

Look for autographs from all of your favorite past and present NFL stars in their college uniforms in Alumni Ink and Old School Colors Signatures!

Find dual autographs from college greats in Collegiate Connections Signatures-pairings include Bo Jackson/Frank Thomas, John Elway/Jim Plunkett and Rob Gronkowski/Nick Foles. They are sequentially numbered to 5 or less!

Class Reunion highlights the cream of the crop from today's NFL in their glory days from college. Adrian Peterson, J.J. Watt, Odell Beckham Jr. and Russell Wilson are among those in the 25-card insert.

Chase the top rookie quarterbacks and running backs from the 2016 NFL Draft in Passing Grades, Passing Grades Signatures, Rush Week and Rush Week Signatures.

Loaded with this year's rookies!

Look for the following Hobby only exclusives: Bowl Ticket-serially #'d to 99, Championship Ticket-serially #'d to 1, Cracked Ice Ticket-serially #'d to 23, College Ticket and Season Ticket Printing Plates serially #'d to 1!