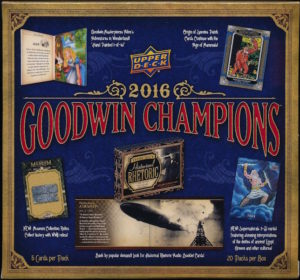 20 packs per box, 5 cards per pack
Look for three (3) of the following inside every box
Hard-signed autographs

Single or Dual Swatch Memorabilia cards

Origin of Species patch cards

Goodwin Masterpieces – Art of the Ages Paintings

Museum Relics

Goodwin Champions Cut Signatures

Historical Rhetoric Audio Booklets
ALL NEW! – Collect "Game of Chance" cards!
Put together a complete deck of 54 different playing cards featuring stunning painted interpretations of the classic deck of playing cards with lenticular technology! 

Collect Four (4) "Game of Chance" cards per case!

Look for rare hard-signed 'Artist Autograph' variations #'d to 25!
ALL NEW! – Historical Rhetoric Audio Booklet Cards!
Each two-panel booklet reveals a wide angle image of a famed oratory event while playing an audio clip of the featured speech!
ALL NEW! – Look for Goodwin Champions Cut Signature cards!
Featuring a wide array of historical and entertainment subjects!
ALL NEW! – Museum Collection Relics focused on the Roaring 20s!
Take a look back at a decade defined by Prohibition speak-easy's, vicious gangsters, and Jazz music!

Includes materials like: a signed check from Elliott Ness, Al Capone wire photo, Model T ignition key, Louis Armstrong 78 record, Flapper's clothing, political pinbacks, St. Valentine's Day Massacre Tommy Gun Shell Casing, and much more!!
BUILD YOUR SET! – Continue the collection of "Origin of Species" Patch Cards!
Falling five (5) per case!

The second installment of a 3-year program tracing the history of advanced life on Earth!

2014- The Dawn of Complex Life

2015 – Age of Dinosaurs:
Herbivores
Predators
Armored
Marine
Large Predator
Flying
Coming in 2016 – Age of Mammals

Cards checklisted OS-101 thru OS-200 with varying levels of rarity!
FINAL LOOK! – Rare, Goodwin Masterpieces Art of the Ages Paintings!
Collect the final installation of beautifully hand-painted art cards!

1-of-1 renditions of up to 300 new masterpieces from legends such as Monet, Munch, Gauguin, Michelangelo, and more!
Get five (5) Goodwin Champions Minis per box!
ALL NEW! Look for rare canvas, cloth, wood, and leather mini parallels falling two (2) per box! 
Ten (10) Black & White High Series SPs per box!
Collect Goudey inserts featuring a variety of top Athletes and Personalities!
Falling five (5) per box!

Look for rare Goudey Sport Royalty and Goudey Autographs featuring stars such as: Tiger Woods, Mike Tyson, LeBron James, Maria Sharapova, Wayne Gretzky, Peyton Manning, and more!