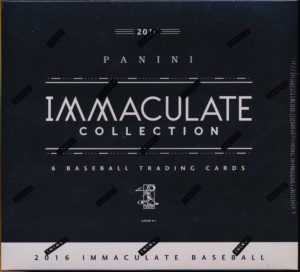 1 pack per box. 6 cards per pack.
(5) Autographs Or Memorabilia
PRODUCT HIGHLIGHTS
– NEW – Look for on-card rookie autographs for the first time in Immaculate Baseball.
– NEW – Look for on-card Rookie Auto Premium Patches which features jumbo swatches.
– Find more Jumbo Premium hits than ever before, including Jerseys, Cleats, Hats, Batting Gloves and Fielding Gloves.
– Look for Prime memorabilia of 2016's hottest rookies, including Trevor Story, Corey Seager, Nomar Mazara, Kenta Maeda, Kyle Schwarber, Miguel Sano, Stephen Piscotty, Blake Snell, Aaron Blair, Tyler Naquin, Michael Conforto and Trea Turner.
– More on-card signatures.
BOX BREAK
– 5 Autographs Or Memorabilia
– 1 Base Or Base Parallel.

PRODUCT DESCRIPTION
ROOKIE AUTO PATCH 
NEW on-card Rookie Auto Patches are the featured rookie card in this year's Immaculate #'d/99! Look for 3 parallels in Rookie Auto Patch #'d/49 or less!
ROOKIE AUTO PREMIUM PATCH
NEW on-card Rookie Auto Premium Patches pair top rookies with jumbo prime swatches!
IMMACULATE JUMBO NAMEPLATE, IMMACULATE JUMBO CLEATS & IMMACULATE JUMBO BATTING GLOVE
Look for Jersey Nameplates, Jersey Numbers, Jersey Sleeve Patches, Batting Gloves, Fielding Gloves, Cleats and Hats in their oversized glory!
IMMACULATE INK
Pairs Veterans and Black Tweedweave signed in gold pen!
IMMACULATE CLEATS
NEW Immaculate Cleats feature the sole of the cleat and are limited to 10 or less!
DUAL DIAMOND INSCRIPTIONS
NEW for the first time in Immaculate Baseball find on-card dual autographs!