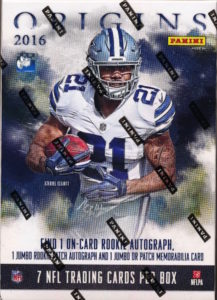 1 pack per box. 7 cards per pack. 
(2) Autographs and (1) Memorabilia per Box
Box Break:
1 on-card rookie autograph.

1 jumbo rookie patch autograph.

1 jumbo or patch memorabilia card.
Origins Football debuts in 2016 with a plethora of on-card and patch content! Look for 1 On-Card Rookie Autograph, 1 Jumbo Rookie Patch Autograph and 1 Jumbo or Patch Memorabilia card per box on average!
Find on-card signatures and jumbo patch autographs from 40 of the NFL's best and brightest rookies!
Pull stunning multi-signed cards and booklets in Quad Rookie Autographs, Six-Star Signatures Booklet, Passing Star Signatures Booklet and Rushing Stars Signatures Booklet!
Look for rare on-card silver and gold ink autographs (#'d/99 or less)!
Score rare Rookie Auto Booklet Patch cards featuring a supersized prime swatch and an on-card autograph (#'d/25 or less)!