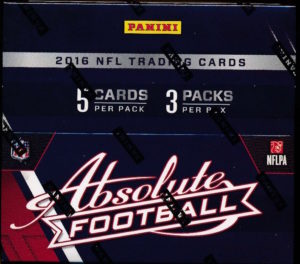 5 cards per pack. 3 packs per box.
At Least (3)Autographs Per Box, (1) Rookie Autographed Triple Memorabilia Per Box
Box Break:
1 Rookie Premiere Triple Material autograph.

1 Multi-Memorabilia card.

2 other autographs.

1 other memorabilia.

1 retired, 1 rookie, 1 parallel, and 1 die cut insert.
Absolute returns to deliver multiple unique memorabilia cards collectors have come to love!
Look for five hits per box, with at least three autographs – one being a rookie autographed triple memorabilia card.
Look for Tools of the Trade cards that include up to five pieces of memorabilia.
A host of popular inserts return, including Ground Hoggs Materials, Rookie Premiere Materials Autographs, Absolutely Ink, Marks of Fame, Team Quads, Leather and Laces, HOF Jersey Autographs, and Glass cards.
All new configuration with three, five-card packs per box, an increase of five cards per box over the last configuration.