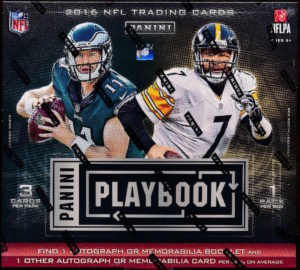 1 Pack Per Box, 3 Cards Per Pack
(1) Autograph or Memorabilia Booklet, (1) other Autograph or Memorabilia Card, and (1) Base Card Per Box
Playbook returns for 2016 with plenty of jumbo memorabilia and stunning autograph hits!
Pull spectacular multi-signed content in Split 6 Signatures and the all-new Play Action Autographs and Front 4 Signatures Booklet!
Find iconic Rookie Playbook Jersey Autographs, featuring new Glove Logo, NFL Shield and Nike Swoosh parallels!
Search for massive swatches in Mammoth Material, Red Zone and Passport Book!
Chase unique multi-swatch materials in Armory, Rookie Jumbo Memorabilia Booklet and Playbook Booklet Materials!
PRODUCT BREAKDOWN:
ROOKIE PLAYBOOK/PLAYBOOK MATERIAL AUTOGRAPHS/FACE 2 FACE: Playbook offers plenty of opportunities to pull jumbo super prime swatches from rookies and veterans alike!
PLAY ACTION AUTOGRAPHS/FRONT 4 JERSEY SIGNATURES: Pull rare multi-signed cards and booklets, including Front 4 Jersey Signatures Booklet that feature four stars' signatures and swatches!
COACHES QUOTES/PASSPORT BOOK/SLANT SIGNATURES: Find multiple new autograph and material inserts, including Passport Book that feature jumbo swatches from across a player's career!