4 cards per pack. 1 pack per box.
(4) Autographs Per Box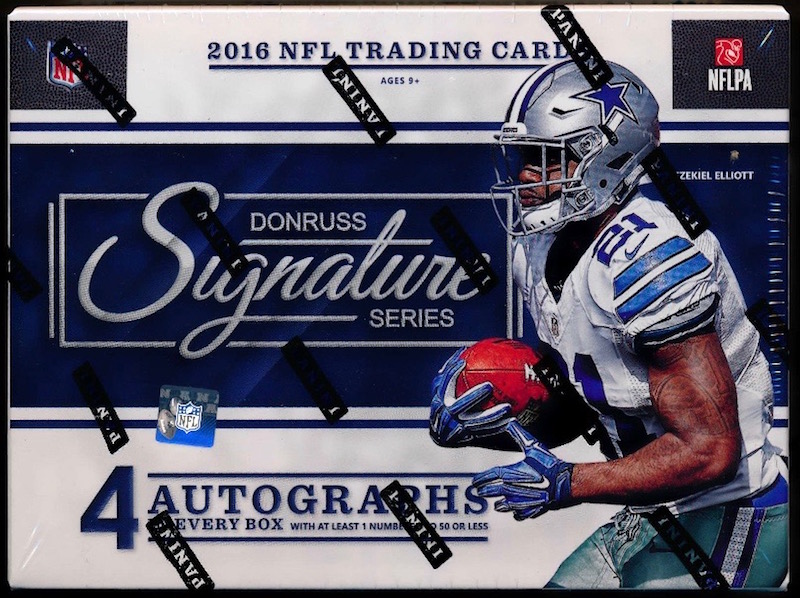 Box Break:
4 autographs per box, including 1 paralleled autograph #'d / 50 or less.
Donruss Signature Series contains a 300-card, all autographed base set, with Holo Silver, Gold, Holo Gold, and Platinum parallels. Each box includes four autographs with one being #'d/50 or less!
Find Elusive Ink, Team Trademarks, and Award Winning Signatures!
Look for Rookie Signature Series and Rookie Jersey Signature Series, with Holo Silver, Gold, Holo Gold, and Platinum parallels.
Get two multi-player autograph cards per case, featuring two, four, six or eight autographs on a card!
The autograph checklist includes retired legends, current stars, rookies and several popular players who have never had a certified autograph!
Along with the 1 multi-signed card and 1 patch autograph PER INNER CASE, as well as the 1 parallel autograph #'d/50 or less PER BOX, look for the following key LIVE autographs in the upcoming 2016 Donruss Signature Series Football:
Key Live Rookies:
Dak Prescott

Ezekiel Elliott

Carson Wentz

Jared Goff

Derrick Henry

Paxton Lynch

Corey Coleman

Devontae Booker

Sterling Shepard

Laquan Treadwell

Joey Bosa

Will Fuller

and many more!
Key Live Veteran and Retired players include:
Aaron Rodgers

Andrew Luck

Barry Sanders

Ben Roethlisberger

Brett Favre

Dan Marino

Deion Sanders

J.J. Watt

Jerry Rice

Joe Namath

Ray Lewis

Emmitt Smith

Terry Bradshaw

and many more!
Also, look for all-new and popular key live players (with very few or no certified autographs):
Adam Vinatieri

Brett Keisel

Brian Cushing

Chris Doleman

Chris Spielman

Christian Okoye

Cole Beasley

Dan Bailey

Dick LeBeau

Ed Reed

Eric Berry

Fred Dryer

Geno Atikins

Haloti Ngata

Kevin Greene

Mark Gastineau

Mike Vrabel

Morten Andersen

Trevor Siemian

Muhammad Wilkerson

Neil Smith

Ryan Shazier

Sebastian Janikowski

Steve Tasker

Tedi Bruschi

and many more!