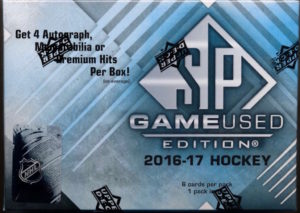 1 Packs Per Box, 6 Cards Per Pack
Look for Auston Matthews Rookie Cards!
(1) Autograph or Premium Memorabilia Card, plus an additional (3) Autograph or Memorabilia Cards per box.
Find Two Base Cards or Authentic Rookies Per Box! 
Find an incredible lineup of cards featuring game-used jerseys, patches, pucks, sticks, gloves and net cords from the 2016 NHL Stanley Cup Final, Winter Classic, Stadium Series and NHL All-Star Skills Competition.
Look for 100 Base Cards and 100 Authentic Rookies serial #'d to the featured player's jersey number. Plus, select player cards serial numbered to actual jersey number will feature an autograph with accompanying COA to create 100 must-have 1 of 1 cards.
The return of huge hits like Game Gear, All-Star Skills Game Gear and Stadium Series Game Gear along with, Supreme Patches, Supreme Gloves and Pads feature a selection of the game's top stars with massive 1″ x 2.75″ swatches of super-premium, game-used material.
NEW! Brand New Frameworks cards feature a large jersey swatches of many of your favorite players, displayed in a way you've never seen before. 
PRODUCT BREAKDOWN:
Premium Memorabilia Cards:
– Game Gear, 2016 All-Star Skills – # to 6
– Game Gear, 2016 Stadium Series – # to 6
– Game Gear, NHL Legends – # to 3
– 2016 NHL Stadium Series Game Used Pucks – Inserted 1:420
– 2016 NHL Stadium Series Det. Vs. Col. Material Net Cord – # to 35
– 2016 NHL Stadium Series Det. Vs. Col. Material Net Cord Shield Logo – # 1-of-1
– 2016 NHL Stadium Series Chi. Vs. Min Material Net Cord – # to 35
– 2016 NHL Stadium Series Chi. Vs. Min Material Net Cord Shield Logo – # 1 of 1
– 2016 NHL Winter Classic Game Used Pucks – Inserted 1:840
– 2016 NHL Winter Classic Material Net Cord – # to 35
– 2016 NHL Winter Classic Material Net Cord Shield logo = # 1 of 1
– 2016 Stanley Cup Final Game Used Pucks – Inserted 1:840
– 2016 Stanley Cup Final Material Net Cord – # to 25
– 2016 Stanley Cup Final Material Net Cord Shield Logo – # 1 of 1
– 2016 NHL All-Star Skills Competition Game Used Pucks – Inserted 1:840
– Supreme Patches / Sticks / Gloves / Skates – # to 15
Autographs:
– Inked Sweaters (Auto Jerseys) – Varied #ing
– Inked Sweaters – Patch Parallel – Varied #ing
– Inked Rookie Sweaters, Patch Parallel – #'d to 99
– Draft Day Marks (Rookies) – #'d to 35 per letter
– Draft Day Marks (Veterans) – #'d to 10 per letter
– Regular Cards Blue Autograph Parallel – 1:6
– Regular Cards Red Autograph Jersey Parallel – 1:15
– Regular Cards Red Autograph Patch Parallel – Varied #ing
– Authentic Rookies Blue Autograph Parallel – 1:6
– Authentic Rookies Red Autograph Jersey Parallel – 1:12
– Authentic Rookies Red Autograph Patch Parallel – # to 25
– Banner Year – 2016 NHL All-Star Competition Auto Parallel – 1:287
– Banner Year – NHL Winter Classic Auto Parallel – 1:574
– Banner Year – NHL Stanley Cup Final Auto Parallel – 1:287
– Banner Year – Draft Auto Parallel – 1:57
– Banner Year – Stadium Series Auto Parallel – 1:287
More Unbelievable Memorabilia:
– Regular Cards Jersey Parallel – 1:2.5
– Regular Cards Patch Parallel – Varied #ing
– Authentic Rookies Jersey Parallel – # to 499
– Authentic Rookies Patch Parallel – # to 49
– 2016 All-Star Skills Fabrics Jersey – 1:2.5
– 2016 All-Star Skills Fabrics Patch Parallel – # to 35
– 2016 All-Star Skills Fabrics Dual – 1:15
– 2016 All-Star Skills Fabrics Dual Patch Parallel – # to 25
– 2016 All-Star Skills Fabrics Triple – 1:20
– 2016 All-Star Skills Fabrics Triple Patch Parallel – # to 15
– 2016 All-Star Skills Fabrics Quad – 1:60
– 2016 All-Star Skills Fabrics Quad Patch Parallel – # to 10
– 2016 All-Star Skills Fabrics Sixes – 1:70
– 2016 All-Star Skills Fabrics Sixes Patch Parallel – # to 10
– 2016 NHL Stadium Series Fabrics – 1:6
– 2016 NHL Stadium Series Patch Parallel – # to 35
– 2016 NHL Stadium Series Quads – 1:80
– 2016 NHL Stadium Series Quads Patch Parallel – # to 10
– 2016 NHL Stadium Series Relic blends – # to 99
– 2016 NHL Stadium Series Relic Blends Patch Parallel – # to 25
– 2016 NHL All-Star Skills Competition Relic Blends – # to 99
– 2016 NHL All-Star Skills Competition Relic Blends Patch Parallel – # to 25
– Banner Year – 2016 NHL All-Star Skills Competition – 1:5
– Banner Year – NHL Winter Classic – 1:9
– Banner Year – NHL Stanley Cup Final – 1:8
– Banner Year Draft – 1:9
– Banner Year – Stadium Series – 1:12
– Frameworks – 1:15
– Frameworks Gold Parallel – # to 5
– Rookie Sweaters – # to 59
– 2016 Rookie Relic Blends – # to 199
– 2016 Rookie Relic Blends Patch parallel – # to 25
Rookie Cards & Numbered Parallels:
– Authentic Rookies – #'d to Jersey Number
– Authentic Rookies Auto Variation – 1-of-1 (#'d to actual jersey #, i.e. 92/92)
– Authentic Rookies Rainbow Parallel – #'d to 200 + Age
– Authentic Rookies Orange Rainbow Parallel – #'d to 100 + Draft Year
– Authentic Rookies Green Snow Storm Parallel – #'d 1 of 1
Regular Cards & Numbered Parallels:
– 100 Regular Cards — #'d to Jersey Number
– Regular Cards Auto Variation – 1-of-1 (#'d to actual jersey #, i.e. 99/99)
– Regular Cards Rainbow Parallel – #'d to 200 + Age 
– Regular Cards Orange Rainbow Parallel – #'d to 100 + Draft Year
– Regular Cards Green Snow Storm Parallel – #'d 1 of 1