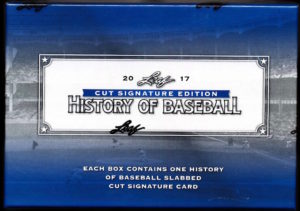 (1) Cut Signature Card Per Box
Leaf is pleased to announce the return of one of its very popular, value driven cut signature releases. 2017 Leaf History of Baseball Cut Signature Edition features ALL PLAYERS IN THE BASEBALL HALL OF FAME. The selection of players is absolutely incredible and without a doubt parallels virtually any similar check list and at an incredible price point!
All cards in the product will be serial numbered and slabbed for complete protection. Additionally, ALL CUTS WILL BE MADE UTILIZING LEAF'S SIGNATURE "METAL PRISMATIC" TECHNOLOGY.
LOOK FOR SIGNATURES OF:
Babe Ruth 
Sandy Koufax 
Casey Stengel 
Ted Williams 
Hank Greenberg 
Joe Dimaggio 
Satchel Paige 
Lou Gehrig 
Mickey Mantle 
Ty Cobb 
Connie Mack 
Roy Campanella 
Nellie Fox 
Roberto Clemente And Many More