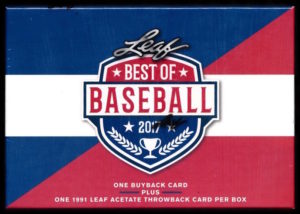 (1) Buyback Card Per Box
One Leaf Acetate Throwback Card Per Box!
Find Rookie cards, Vintage cards, Autograph cards, Premium Memorabilia cards, or another exciting baseball buyback item!
This release celebrates everything that is incredible about baseball cards. Featuring the hottest Rookie Cards, Vintage Cards and exciting Autograph and Memorabilia Cards, this release is certain to once again provide an exciting pack opening experience for collectors everywhere.