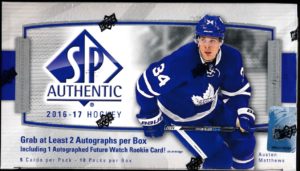 18 Packs Per Box, 5 Cards Per Pack
Each CASE contains One Hard-Signed Patch Card!
(1) Hard-Signed Rookie Future Watch, (1) additional Autograph, (1) NEW Spectrum FX Card, and (1) additional Autograph or Spectrum Card Per Box
Every box will yield 14 from the following:
– Authentic Moments
– Silver Skates
– Upper Deck Update
– Upper Deck Young Guns Update
– Upper Deck Season Highlights
Look for the new Spectrum FX set featuring 100 stars and Future Watch rookies, printed on gorgeous spectrum Light FX!
Find Sign of The Times multi-player autograph cards including 2's #'d to 25, 3's #'d to 15, 4's #'d to 10, 6's #'d to 6, & 8's #'d to 5!
Find Upper Deck Updates and Young Guns Update cards Including Exclusive parallels #'d to 100 & the highly sought after High Gloss parallel #'d to a mere 10!
Continue your collection of Global Chirography and Great White North Signature Cards.
Key Rookies: Auston Matthews, Patrik Laine, Matthew Tkachuk, William Nylander, Dylan Strome, Mitch Marner, Jesse Puljujarvi, Jimmy Vesey.
PRODUCT BREAKDOWN:
Autographs:
– Autographed Future Watch – #'d to 999
– Autographed Future Watch Inscription Variation – #'d to 50 of 999
– Sign of The Times Rookies Tier 1 – # to 199
– Sign of The Times Rookies Tier 2 – # to 99
– Sign of The Times Rookies Tier 3 # to 35
– Sign of The Times Rookies Inscription Variation – Varied #'ing
– Sign of The Times Tier 1 – Inserted 1:120
– Sign of The Times Tier 2 – Inserted 1:2304
– Sign of the Times Duals – #'d to 25
– Sign of the Times Trios – #'d to 15
– Sign of the Times Quads – #'d to 10
– Sign of the Times Sixes – #'d to 6
– Sign of the Times Eights – #'d to 5
– Global Chirography – inserted 1:576
– Great White North – inserted 1:576
– Marks of Distinction – #'d to 25
– Immortal Inks – #'d to 10
– Regular Cards Autograph //- inserted 1:216
– Authentic Moments Autograph – inserted 1:1,440
– Silver Skates Veterans Autograph // – #'d to 10
– Silver Skates Rookie Autograph // – # to 25
Autograph Patch & Material Cards – Delivering 2 hits per case
– Future Watch Autograph Patch – #'d to 100
– Limited Autograph Materials Tier 1 – #'d to 50
– Limited Autograph Materials Tier 2 – #'d to 25
– Limited Autograph Materials Tier 3 – #'d to 10
Upper Deck Updates and Young Guns Updates:
– Upper Deck Update – inserted 1:5
– Upper Deck Exclusive Update – #'d to 100
– Upper Deck High Gloss Update – #'d to 10
– Upper Deck Young Guns Update – inserted 1:13
– Upper Deck Young Guns Exclusive Update – #'d to 100
– Upper Deck Young Guns High Gloss Update – #'d to 10
– Upper Deck Season Highlights – inserted 1:26
– Upper Deck Season Highlights Exclusive – #'d to 100
– Upper Deck Season Highlights High Gloss – #'d to 10
More Great Hits:
– Future Watch – #'d to 999
– Spectrum Future Watch – Level 1 – inserted 1:36
– Spectrum Future Watch – Level 2 – inserted 1:108
– Spectrum Future Watch – Level 3 – inserted 1:576
– Spectrum – Veterans – inserted 1:18
– Authentic Moments – inserted 1:5
– Authentic Moments Gold // – #'d to 99
– Silver Skates – inserted 1:6
– Silver Skates Gold // – #'d to 99
Regular Cards:
– 100 Regular Cards