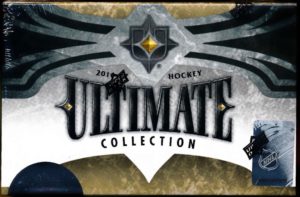 1 Pack Per Box, 4 Cards Per Pack
(3)  Premium Hits, including (1) Rookie Autograph #'d to 299 or less per box.
Look for one or more Rookie Autograph or Rookie Autograph Material #'d to 49 or less per inner case!
Look for a slew of high-end memorabilia inserts including signed versions and premium material parallels including: Ultimate Performers, Numeric Excellence, Keystone Fabrics and Signature Laureates!
BOX BREAK:
– 1 Hard Signed Rookie Autograph
– 1 Additional Autograph or Premium Material Card
– 1 Jersey Card
– 1 #'d Base or Ultimate Introduction Card
Collectors will go crazy for the 2006-07 throwback Retro Rookie cards. Featuring Jersey, Autographs, Autographed Patch and Autographed Shield Variations.
NEW! Look for Ultimate Introductions Rookie Cards featuring 50 top prospects from the 2016-17 rookie class. Look for the rare hobby exclusive Onyx Black Parallels #'d to 25.
Look for a slew of high-end memorabilia inserts including signed versions and premium material parallels from inserts like: Ultimate Performers, Numeric Excellence, Keystone Fabrics and Signature Laureates.
PRODUCT BREAKDOWN:
Rookie Autograph & Memorabilia Cards:
– Autographed Ultimate Rookies Tier 1 – #'d to 299
– Autographed Ultimate Rookies Tier 2 – #'d to 99
– 2006-07 Retro Rookie Autographs Tier 1 – #'d to 199
– 2006-07 – Retro Rookie Autographs Tier 2 – #'d to 49
– Ultimate Rookies Jersey – #'d to 249
– 2006-07 Retro Rookies Jersey – #'d to 99
– Ultimate Rookies Autograph Patch // – #'d to 49
– 2006-07 Retro Rookies Autograph Patch // – #'d to 25
– Ultimate Rookies Autograph Shield – #'d 1-of-1
– 2006-07 Retro Rookies Autograph Shield – #'d 1-of-1
– Debut Threads Autograph Patch – Varied #ing
– Signature Material Phenoms – Varied #ing
Autograph & Memorabilia Inserts:
– Autograph Shield Materials – # 1-of-1
– Shield Materials – # 1-of-1
– Ultimate Skills Shield – # 1-of-1
– Ultimate Performers Jersey Tier 1 – # to 99
– Ultimate Performers Jersey Tier 2 – # to 49
– Ultimate Performers Jersey Auto – Varied #ing
– Ultimate Performers Premium Materials // – Varied #ing
– Ultimate Performers Premium Materials Autograph // – Varied #ing
– Ultimate Performers Tag // – # to 3
– Ultimate Performers Tag Autograph // – # 1-of-1
– Keystone Fabrics Jersey – # to 99
– Keystone Fabrics Jersey Autograph – Varied #ing
– Keystone Fabrics Premium Materials // – Varied #ing
– Keystone Fabrics Premium Materials Autograph // – Varied #ing
– Keystone Fabrics Tag // – # to 3
– Keystone Fabrics Tag Autograph // – # 1-of-1
– Numeric Excellence Jersey – # to 35
– Numeric Excellence Jersey Autograph – # to 15
– Numeric Excellence Premium Materials // – Varied #ing
– Numeric Excellence Premium Materials Autograph // – Varied #ing
– Numeric Excellence Tag – # to 3
– Numeric Excellence Tag Autograph – # 1-of-1
– Signature Laureates – # to 25
– Signature Material Laureates – Varied #ing
– Base Set Autograph // – Varied #ing
– Base Set Onyx Black Auto // – # 1-of-1
More Great Hits:
– Ultimate Introductions Tier 1 – inserted 1:3
– Ultimate Introductions Tier 2 – inserted 1:6
– Ultimate Introductions Tier 3 – inserted 1:9
– Ultimate Introductions Tier 4 – inserted 1:12
– Ultimate Introductions Onyx Black // – #'d to 25
– Base Set Onyx Black // – # to 10
– Base Set – # to 99