COME AND PLAY AT MVP SPORTSCARDS…PANINI NFL PLAYER OF THE DAY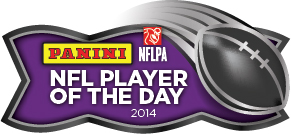 To win, open any 2014 Panini NFL pack that you have purchased  in front of a store employee.  If you "pull" the highlighted Panini NFL Player of the Day or the Wild Card (Johnny Manziel, Andrew Luck and EJ Manuel) you win a prize.  FUN! FUN! FUN!
Four times during the promotion we will randomly select one of our daily winners as a weekly prize winner.  At the conclusion of the 32-day promotion, we will randomly select one of our weekly winners as the Panini NFL PLAYER OF THE MONTH winner.
Today's POD is Colin Kaepernick
Today is the last day to participate in Panini's NFL POD. We will be announcing our 4th week winner on Monday.
Purchase any Panini NFL packs and your name will automatically be entered for a chance to win a prize.