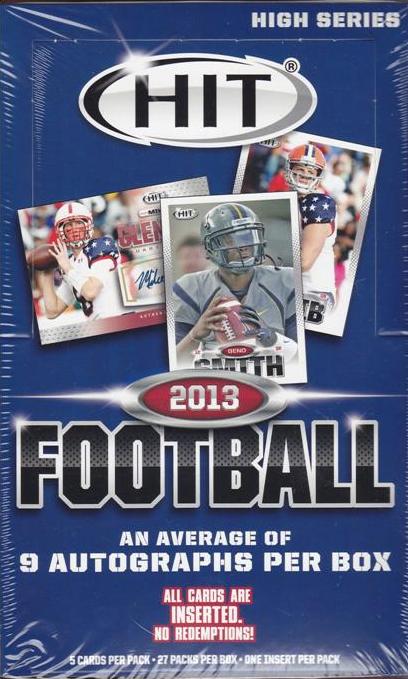 27 Packs Per Box – 5 Cards Per Pack
 9 Autographs Per Box on average
PRODUCT HIGHLIGHTS:
The Very First Cards of the 2013 Draftees including Geno Smith, EJ Manuel, Giovani Bernard, Eddie Lacy, Mike Glennon, Ryan Nassib, and many more!
1/1 Printer's Plate Cards & 1/1 Autographed Printer's Plate Cards randomly inserted.
All cards are inserted, NO REDEMPTIONS!
One insert card in every pack.
Write Stuff Autographed Cards #'d to only 25.
Additional rare autographed cards #'d to 250 and 100.
Base cards are continually numbered 76-150 in the High Series to complete the 150-card HIT 2013 Football base series.
Extremely limited production.