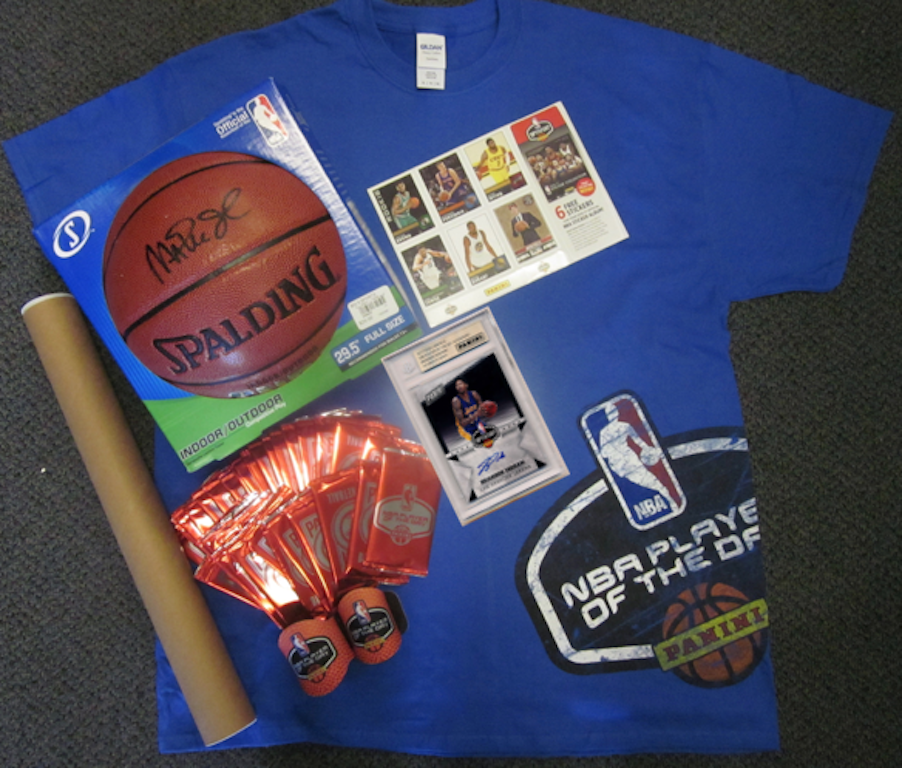 Here's some of the great prizes for participating in the basketball case break.
Case Break Rules
Random Break –  Your purchase entitles you to one randomized team. We will roll a dice with a minimum of three (1-3 on the roll will be an automatic 3) this will determine how many times the teams are randomized.  Teams are randomized live using a randomizer online.
You will receive all cards from your team (Autos, Mem, Base, Inserts).
Autos, Mem, Base & Inserts with two or more teams will go to the team on the top or left of the card.  If the card is not clear, there will be a coin toss or for multi-player cards we will use the random.org.
Anything that is not clear, MVP Sportscards will make the final decision using a coin toss, random.org or our judgement.
Raffle
One raffle ticket per case break spot purchased.
Three main prizes: 2017 Panini America POD Brandon Ingram Auto /5 BGS, PSA/DNA Magic Johnson Auto Basketball & PSA/DNA Magic Johnson Auto Poster
FREE Panini POD packs and t-shirts to all participants.
Following the case break, we will have a draw the winners for the raffle.
One raffle prize winner per customer.
All raffle tickets will be thrown into a box.  Three raffle tickets will be pulled for the prizes.  First ticket called will pick an envelope which will state the prize.  Second ticket called will pick between the two remaining envelopes which will state their prize. Lastly, Third ticket called will take the last envelope which will state his/her prize.