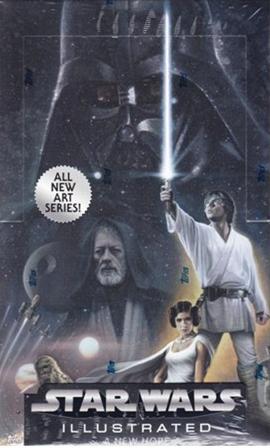 24 packs per box, 6 cards per pack
Star Wars Illustrated brings to life the old Star Wars movie and radio dramas in a way never before seen with original artists bringing their artistic interpretation to to visual spectrum. In 1981, NPR broadcast a 6-hour Star Wars: A New Hope story to listeners across the country. The radio drama added significant backstory including how Princess Leia acquired the plans to the Death Star and Han's encounter with Jabba the Hutt's agents.
This is an opportunity to get your hands on canon material that has never been seen before in breathtaking art.
145 cards tell the story of A New Hope * (100) Base Cards * (3) Base Parallels – Black, Bronze & Gold (Hobby exclusive) * (18) One Year Earlier Insert * (9) Movie Poster Artist Reinterpretations * (6) Etched Foil Radio Drama Puzzle * (12) The Mission: Destroy the Death Star Insert
5 different Hits add value for collectors * Panorama Sketch Cards * Film Cell Relics * Sketchagraphs * Printing Plates * Original Etched Foil Artwork