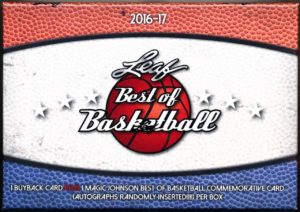 1 pack per box. 2 cards per pack.
(1) Buyback Card plus (1) Magic Johnson Best Of Basketball Commemorative Card (Autographs Randomly Inserted) Per Box.
Leaf is pleased to announce the return of the Premiere repackaged card product in the marketplace, 2016-2017 Leaf best of basketball. This release once again Features everything that is amazing about basketball Cards. Look for an amazing selection of buyback rookie Cards, premium memorabilia cards, autograph Cards and superstars.